ravens_hearth @ : Libertarian Hotties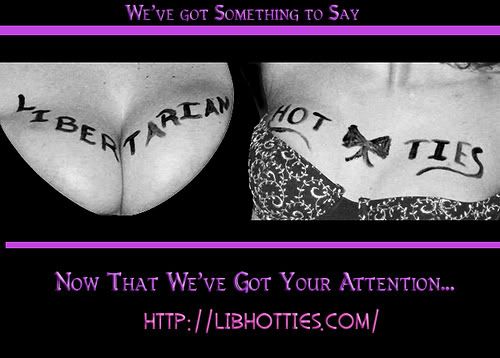 Libertarian Hotties - Facebook Community
Libertarian Hotties Main Site (Under Construction)
Libertarian Hotties - Myspace Community
The purpose of Libertarian Hotties is to:
• Connect with politically attentive, liberty-loving women.
• Use themed pictorials of attractive libertarian women to draw attention and educate the public.
• Network [potential] models and photographers, and anyone else who wants to help spread a pro-liberty message.
• Dispel the libertarian stereotype of "white male with bad haircut."
Political pin-up projects tend to support specific candidates. We'd like to encourage something similar, that focuses on individual issues -- foreign policy, market crisis, drug laws, sex laws, health care, taxes, gun control, censorship, etc.
It doesn't matter what your party affiliation is. If you identify with the movement to minimize government, maximize personal freedom, and encourage a more sustainable economy, you're probably one of us.